The "Magic Of Christmas" bear is an animated Christmas decoration made in 2002. He wears a red wool cap, a matching sweater, and holds a Christmas tree in his right hand. When the button on his foot is pressed, he moves his mouth and head as he talks about the magic of Christmas.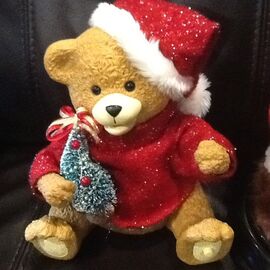 "The magic of Christmas is more than just 8 tiny flying reindeer, or even jolly ol' Santa with his bag full of toys. Why, you enjoy it right here all year long with your family and friends. The joy of being together. That's truly the real magic of Christmas."
Ad blocker interference detected!
Wikia is a free-to-use site that makes money from advertising. We have a modified experience for viewers using ad blockers

Wikia is not accessible if you've made further modifications. Remove the custom ad blocker rule(s) and the page will load as expected.