This was a series made by Gemmy in 2000-2002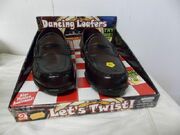 Loafers-Let's Twist Again (available in white, black, navy blue, mocha, gray, leopard-print, red and forest green)
Rollerskates-Brand New Key-they roll back and forth.
Go-Go Boots-These Boots Were Made for Walking (available in white, silver, lavender purple, yellow, orange, magenta, light pink, medium pink, purple, black, red, tan, lime green, forest green, royal blue, sky blue, neon orange, neon yellow, neon pink, neon green and gold)
Wedges-Disco Inferno (in fuschia, bright blue or lime green)
Platforms-Get Down Tonight
High Heels-Girls Just Wanna Have Fun (available in leopard print, pink glitter, plain pink, silver glitter, red glitter, and zebra print)
Stilettos-Celebration (in silver, red or yellow glitter)
Pumps-The Sweet Escape (in green glitter and blue glitter)
Tap Dancing Shoes-Bill Bailey, Won't You Please Come Home?
Mary-Janes-Hokey-Pokey (available in black, pearl blue, red, white and pearl pink)
Boy's Sneakers-Get Ready For This (in red, blue, green, black and yellow)
High-Tops-All Star (in pink, red, blue, black and white)
Beatle Boots-From Me to You
Flats-Put Your Records On
Mules-Boom Clap
Blue Suede Shoes-The song of the same name
Ballet Slippers-Blue Danube
Flip-Flops-Vacation (available in blue, purple or pink)
Sandals-Wipeout (in tan)
Cowboy Boots-Save a Horse, Ride a Cowboy (in brown)
Cowgirl Boots-Rawhide (available in pink and red)
Boat Shoes-Sea Cruise (white, black, red or blue)
Ugg Boots-Woolly Bully
Girl's Sneakers-Sneakernight
Spats-It don't mean a thing
Bowling Shoes-Bowling Down Memory lanes from Get in the Game
Ad blocker interference detected!
Wikia is a free-to-use site that makes money from advertising. We have a modified experience for viewers using ad blockers

Wikia is not accessible if you've made further modifications. Remove the custom ad blocker rule(s) and the page will load as expected.