The Flirty Flasher Mouse is an animated Valentine's Day plush made in 2008. The mouse wears a red coat with a pink trim on it. The second mouse, which takes the place of a Flirty Flasher's lighted heart, holds a banner that reads "Double Trouble" on it. When activated by pressing the button on the mouse's left foot, the mouse swings his hips and opens and closes his robe as the second mouse's cheeks light up to the song "I like to move it".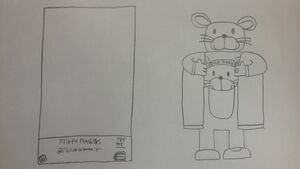 Ad blocker interference detected!
Wikia is a free-to-use site that makes money from advertising. We have a modified experience for viewers using ad blockers

Wikia is not accessible if you've made further modifications. Remove the custom ad blocker rule(s) and the page will load as expected.