Fraidy Cat (Not to be confused with the already existing Gemmy item with the same name) is a small series based of the 1975 cartoon from "Uncle Croc's Block" made in 2015 to celebrate the 40th anniversary.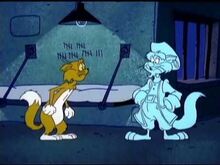 Items in the series
Edit
The items stand at about 1 foot, excluding Elephunt Cave "One" Cat and Ant, and Billy "Five" the Kitt, they say 2 phrases and sing a song.
Fraidy "Nine" Cat- Stray Cat Strut
Elephunt Cave "One" Cat and Ant- Walk the Dinosaur
Kitty "Two" Wizard- Black Magic Woman
Captain "Three" Kitt- Sea Cruise
Sir Walter "Four" Cat- What a Wonderful World
Billy "Five" the Kitt- Long Tall Texan
Jasper "Six" Catdaver- Thriller
Captain Eddie "Seven" Cattenbakker- Wild Blue Yonder
Hep "Eight" Cat- Zoot Suit Riot
-Dashboard Drivers were also made, they say 2 phrases, and sing a smaller portion of their song.
-Billy "Five" the Kitt was recalled because he was too loud, causing his speaker to easily fry, a 2nd version was made a few months later, which was more quiet.
Ad blocker interference detected!
Wikia is a free-to-use site that makes money from advertising. We have a modified experience for viewers using ad blockers

Wikia is not accessible if you've made further modifications. Remove the custom ad blocker rule(s) and the page will load as expected.