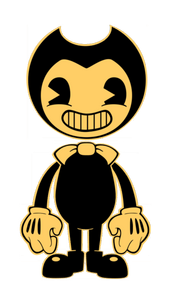 The Lifesized animated Bendy the Dancing Demon was an item made by Gemmy for Halloween in 2017
Description
Edit
Bendy stands at only 3' 4", on a black base with a purple button. When activated via push button, motion sensor, or sound, Bendy turns his head, moves his mouth, and swings as he says 10 phrases and sings "Devil in Disguise" and "Hot Blooded"
-He was sold at Spencers Gifts and Halloween Express for $99.99, making him the cheapest in the series
-Bendy is the shortest lifesize in the BATIM series.
Ad blocker interference detected!
Wikia is a free-to-use site that makes money from advertising. We have a modified experience for viewers using ad blockers

Wikia is not accessible if you've made further modifications. Remove the custom ad blocker rule(s) and the page will load as expected.