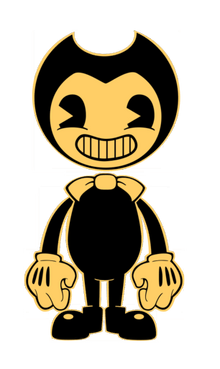 This life-sized Bendy the Dancing Demon animated Halloween prop is 5'3" tall. Bendy speaks seven phrases voiced by a YouTuber named David Near. The animated figure swings side to side and dances to two instrumental versions of Build Our Machine by DAGames and KyleAllenMusic's Bendy and the Ink Machine song.
Bendy and the Ink Machine belongs to theMeatly Games.
Fan-made "Gemmy" idea made By Beatle-Yee aka TinyGoatGirl57 aka PuppyPMcCartney.
Bendy and his friends were sold at Spirit Halloween, Walmart, Walgreen's, Spencer's, Hot Topic, and Target in 2017-2019 and 2017-2021.
Bendy, Alice and Boris are voiced by well known voice acting YouTubers known in the BatIM community, except for Sammy Lawrence the Music Director, who only speaks for his life sized counterpart is voiced by his official voice actor from the game and his phrases are his dialogues from the game
theMeatly Games did a teaser post for Twitter saying "Something fun-sized is coming."
Life-Sized Bendy was on the front page on Hot Topic's website.
Ad blocker interference detected!
Wikia is a free-to-use site that makes money from advertising. We have a modified experience for viewers using ad blockers

Wikia is not accessible if you've made further modifications. Remove the custom ad blocker rule(s) and the page will load as expected.