The Mei Misaki animated figure is an animated item released by Gemmy in 2012 based off of the popular anime Another.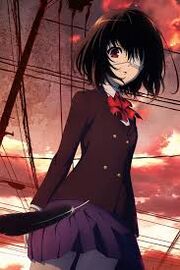 Description
Edit
Mei is standing on a black base covered in blood splatters, with the shows logo on the front of it, Mei is wearing her usual school uniform, and has a black crow on her shoulder. When activated via push button, she turns her head and moves her mouth while her red eye glows a faint red, the crow flaps his wings, while his beak moves, his eyes light up, and he caws, as Mei says 12 phrases, and sings the theme song from the anime.
-There were two other versions released: A dashboard driver version which doesn't have the crow, only says 8 phrases and a shortened version of the theme, and a lifesize version, which stands at 5' 1", features more realistic movement from both Mei and the crow, and she says 20 phrases and sings the entire version of the theme song.
-The normal version was sold only at Walmart for $19.99, the Dashboard Driver version was sold at At Home and Home Depot for $9.99, and the lifesize version was sold at Spirit Halloween and K Mart for $149.99