Michigan J Frog was a prop made in 2004, sold along with the Valentine's Day Pepe Le Pew, Tweety, and Porky Pig.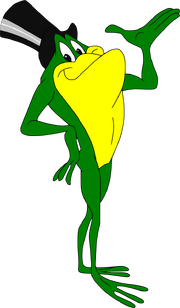 Description
Edit
He's wearing his signature top hat, and holds a heart that reads "Hoppy Valentines Day!". When activated, he moves like the Monster Maniacs, and his heart lights up, while he sings "Hello My Baby".
-He's one of the only Looney Tunes Gemmy items that have Synchromotion Tecnology. 
-He uses the original recording from the actual Looney Tunes cartoon.
-He was sold at Walgreens, Walmart, and CVS for $9.99