The Polar Band Trio is a life size animated Christmas decoration made in 2008. The characters are a polar bear and 2 penguins. The polar bear is dressed in a tie dye shirt, denham jeans, and a red Santa Claus hat. He holds a black and white electric guitar in his hands. The penguins have a cartoon appearance on them. The first penguin is dressed in a red suit with a matching hat and holds a trombone, and the second penguin wears a blue holiday suit with a matching hat and holds a saxophone. When activated by pressing the button on the Polar bear's left foot, or by activating the motion sensor, the polar bear moves his head and mouth as he introduces the members of his band and he starts to dance and play his guitar while the penguins swing their hips back and forth while playing their instruments. They play 6 different songs.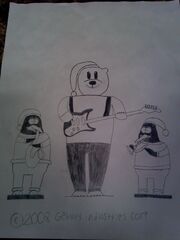 Song list (In order)
Edit
-"Jingle Bells"
-"Back Door Santa"
-"Let's twist again"
-"Travelin' Band"
-"Soul Man"
-"Deck the halls"
Ad blocker interference detected!
Wikia is a free-to-use site that makes money from advertising. We have a modified experience for viewers using ad blockers

Wikia is not accessible if you've made further modifications. Remove the custom ad blocker rule(s) and the page will load as expected.