These were sold at Burger King from 1998-2000.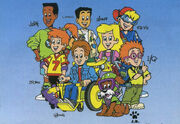 Jaws-YMCA (1998)
Kid Vid-Electric Slide (1998)
Boomer-Rock and Roll Part Two (1998)
Snaps-Freeze Frame (1998)
IQ-Blinded Me With Science (1998)
Wheels-Funkytown and Wheels in the Sky (1998)
Lingo-La Cumparsita and La Bamba (1999)
Jazz-Plays trumpet to In the Mood (2000)
JD-Who Let the Dogs Out? (2000)
Jazz on a Butterfly-2000 plays On the Wings of Love
Wheels on a Centipede-2000, plays
Jaws on an Ant-High Hopes, 2000
Ad blocker interference detected!
Wikia is a free-to-use site that makes money from advertising. We have a modified experience for viewers using ad blockers

Wikia is not accessible if you've made further modifications. Remove the custom ad blocker rule(s) and the page will load as expected.